Mankind was fine with walking miles until the wheel was invented. People were okay with sending out letters before the Short Message Service (SMS) was born. You may think that the way you are doing something is great until you know better. Similarly, you may have a standard process in place to manage your leads. However, there's a lot of scope of improving, and especially optimizing, using a lead management software.
A lead management software helps you not only visualize your lead management process, but also track it, and make it more efficient and automated. Before we go any further on this, we hope you have a fair idea of what lead and lead management is. 
If you have made up your mind to take the aid of a lead management software to streamline and scale your growth, the next big question is–how to choose one? That's what we're here to help you with. Based on the different stages of the lead management process, here are some must-have features of lead management software that you should look for while choosing which one to go for.
Essential features of lead management software
1.   Lead capturing automation
A lead management software should connect with your landing pages, social media platforms, event forums, and every other lead acquisition channel that you have so that when a prospect engages with you on these channels their information is automatically captured in the tool. Not just that, the software should also help you generate alluring and professional-looking lead forms that can be directly shared on social media channels, landing pages, and blog posts to capture leads effectively.
2.   AI-powered lead generation
Artificial intelligence can take you places. A modern-age software should support automation and AI to support you better. With automated and intelligent tracking, you would be able to connect with a prospect that may be interested in your brand at the right time through the right channel. For that, your lead management software should continuously track thousands of individual attributes of your target audience and their behavior so that you can capture relevant leads.
3.   Marketing automation
Not just for tracking, your lead management software should help you out with your marketing efforts too. For instance, suppose you ran a lead generation ad campaign and got a lot of attention. How do you pull that data into your lead management pipeline? Your lead management software should do it for you. Through automation, you should be able to directly link your campaigns to the software and track your leads and conversions.
4.   Predictive customer analysis
Wouldn't it be great to know what exactly made a person take an action on your website? For instance, if many people land on your website homepage, click on a form but do not complete it, what does that tell you? It probably is an indicator that your form is either too confusing or too long so people don't engage with it. This is the kind of analysis that you can use to improve your website, right? So, you need a tool that tracks your website traffic activity and analyzes it to predict customer behavior. More importantly, if there's a recurring lead that just likes to 'visit' your website but not take an action, the predictive analysis should identify this behavior, thus filtering out poor leads from the good ones.
5.   Lead cleansing
You'd find that more often than not, the data that's collected through your lead generation efforts is not as credible as you want it to be. For instance, there's a possibility that a person filled a particular form twice 'just to be sure'. That would be one lead that gets counted twice. Similarly, there can be a change in customer attributes like the company they work in, phone number, email address, postal address, or that they mistyped a piece of information. Your lead management system should automatically clean up this data to verify the credibility like valid emails, phone numbers and also remove any duplicated leads that get added. This way, you have a more accurate data set to work with.


Source: https://www.habiledata.com/blog/bad-sales-leads-and-how-to-cleanse-them/

6.   Integrations
In a business, no function can operate in isolation. You need a software that integrates with most of the other tools that you're using so that you can define your business processes more holistically. For instance, if you are a distributor, your lead management software should integrate with the Enterprise Resource Planning tool. That way, every conversion i.e. order placed is directly shared with the ERP to take the order ahead and fulfill it. Not just that, your tool should be able to integrate with other marketing tools like an email marketing software. Then, you can automate all the emails you send out to your leads and engage with them proactively.
7.   Lead nurturing
Did you know that if you follow up on a lead within 5 minutes, you are nine times more likely to convert them? You can't be on your toes 24X7 to quickly connect with a person that lands as a lead on your social media or website. That's where your lead management system comes into the picture. You can set an automated email or message as soon as the lead is captured so that you don't lose them.
8.   Collaboration
There's no denying that sales and marketing are two separate business functions. However, they are as intertwined with one another as they can get. Through an efficient lead management system, you get a source of truth, a common platform where your sales and marketing teams collaborate and see the bigger pictures. Your sales team gets to see the leads marketing is bringing in and the channels they're coming from to make a stronger pitch. At the same time, the marketing team gets to qualify leads and understand which of their tactics are working based on the conversions the sales team makes.
9.   Lead qualification for the sales pipeline
A lead management software should allow you to track your lead's behavior, understand their responses to different campaigns and analyze the data they share. All these combined can help you qualify your lead better and prioritize them for your sales team. That way, the sales team is able to build a better thought-out pipeline and get higher conversions.  Lead qualification also lets you know which leads may not be relevant at the moment but can be nurtured to target later.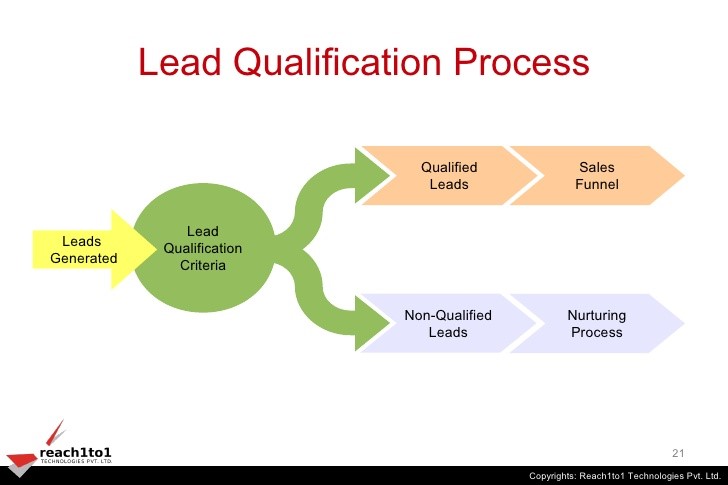 Source: https://www.slideshare.net/bijoor/lead-qualification-resolving-the-sales-and-marketing-conflict
10.   Event creation and management
A lot of marketers today use events as a way to generate leads. So, it makes sense to have a lead management software that can be of assistance in that too. Through the tool, you should be able to take care of the complete event-to-sale process. It should be your execution station from where you can first send out invites to your contacts or leads, share event updates, record registrations, and then connect with these leads post the event to nurture them towards conversion.
The best lead management software for distributors and small businesses–Engage CRM
Keeping in mind all of these features of lead management software, we're building Engage CRM, step-by-step, to fulfill your needs. While there's definitely a lot we can explore and imbibe as we grow, at present, we focus primarily on lead management for distributors and small businesses. Engage CRM is there to boost every stage of your lead management process including funnel management, territory coverage tracking, sales analysis, and more.
To be precise– we understand that there's a lot on your plate. So, we are trying to build a support system for you to deliver better. We help you take care of timely communication with prospects, actively engaging with them, and record actionable insights to improve. Explore EngageCRM today to know how we can help you grow faster.